Vol 9 No 6 (2022) / 5089-5094
Case report

Extranodal primary CD20-negative diffuse large B-cell lymphoma with cytoplasmic p16 expression
Abstract
Extranodal primary CD20-negative diffuse large B-cell lymphoma (DLBCL) is a rare tumor. It often presents a diagnostic challenge for pathologists as the morphological features of neoplastic cells are similar to those of undifferentiated carcinoma or sarcoma cells. While several B-cell markers are commonly tested, expanding the panel of B-cell markers is necessary to ascertain definitive DLBCL diagnoses and would assist in decisions regarding treatment and prognoses. Several additional markers have been proposed, including several mutated genes commonly expressed in cancer cells, such as c-Myc, Bcl6/c-Myc, Bcl6, Bcl2 (double/triple expressors), as well as cytoplasmic p16.
Introduction
The transformation of gastric mucosa-associated lymphoid tissue (MALT) lymphomas to diffuse large B-cell lymphoma (DLBCLs) accounts for < 10% of DLBCL cases, of which primary CD20-negative DLBCLs account for only 1–3%1. DLBCL presents a diagnostic challenge for pathologists, as the morphological features of neoplastic cells are similar to those of undifferentiated metastatic carcinoma or sarcoma cells, and the biopsy specimen size is typically small. Primary CD20-negative DLBCL has a poor prognosis due to its resistance to chemotherapy and is commonly associated with extranodal disease, atypical morphology, and aggressive disease behavior2.
Due to their importance in determining treatment, prognosis, and disease management, mutations in several genes and proteins are routinely investigated following the histopathological diagnosis of DLBCL: c-Myc, Bcl-6, Bcl-2, CD10, MUM13, 4, and p16. The p16 protein interferes with cell division by slowing cell cycle progression from G1 to S phase, thereby acting as a tumor suppressor and indicator of cellular senescence5. However, p16 is typically only mentioned in studies on cervical cancer. In lymphoma research, only one study appears to have investigated p16, specifically as a marker for predicting treatment response in Hodgkin's disease6.
Cellular senescence may play an important role in inhibiting the latent pathway of tumor cell proliferation; tumorigenesis may be inhibited or promoted by senescence5, 7. The overexpression of p16 is associated with poor prognoses in many tumors, such as neuroblastomas and cervical, ovarian, breast, and prostate tumors8. This case report aims to increase understanding of primary extranodal CD20-negative DLBCL, its diagnosis, and the gene and protein mutations related to its prognosis. Of particular focus is p16, about which little is currently known.
CASE REPORT
The patient was a 63-year-old male patient who, besides chronic gastritis, had no other notable medical history. Approximately 1 month before diagnosis, the patient noticed bloating and abdominal pain but experienced no loss of appetite or weight. Typically, clinical manifestations of DLBCL are nonspecific. The patient was admitted to the Hanoi Medical University Hospital. General physical examination revealed no palpable peripheral lymph nodes or liver and/or spleen enlargement. No other remarkable findings were observed, and the results of hematological and biochemical tests were within normal limits. The patient tested negative for human immunodeficiency virus (HIV).
Gastroendoscopic results revealed an ulcerative lesion with a high margin located at the angular notch on the small curvature of the stomach that extended anteriorly to the pyloric orifice (Figure 1). A CT scan revealed wall thickening and a loss of softness along a 53-mm segment of the small curvature. Several regional lymph nodes along the lesser curvature were detected, of which the largest was 20 × 23 mm (Figure 2). Based on the Ann Arbor staging system for lymphoma, the patient was determined to be at stage EII­­­­­­­­­­­1.9
The patient underwent endoscopic gastric biopsy, which revealed focal mucosal necrosis with Helicobacter pylori (H. pylori) positivity and a completely altered gastric mucosal structure due to atypical lymphoid cell invasion. Lymphoma cells were large, with large nuclei, mild polymorphisms, irregular nuclear circumferences, and narrow cytoplasms with predominant nuclei. This morphology was similar to those of undifferentiated carcinoma and sarcoma cells. Immunostaining revealed negative CK markers but positive vimentin and LCA markers. This confirmed that the cells were of lymphoid lineage, ruling out a poorly differentiated carcinoma diagnosis. The cells were evaluated for B-cell line markers, returning negative results for CD19, CD20, and BOB1. Several other B-cell line markers were consequently tested: the cells were positive for PAX5 and CD43, weakly positive for CD79a, and negative for CD3, CD5, ALK1, CD30, and CD15. The cells were positive for the double/triple expressors c-Myc and Bcl-6/Bcl2. Germinal center markers (positivity for CD10 and Bcl-6, negativity for MUM1 and Bcl-2) indicated that the lymphoma cells were derived from the germinal center. The Ki-67 proliferation index was remarkably high, with 95% of lymphoma cells positive for Ki-67. The p16 tumor cell senescence marker was also strongly positive its localization was diffuse, present in both the nucleus and cytoplasm of the neoplastic cells. The final diagnosis was primary, germinal center-derived CD-20 negative DLBCL of the stomach, with the presence of double expressors (c-Myc, Bcl-6) and nuclear and cytoplasmic p16 expression (Figure 3).
DISCUSSION
The conversion of MALT lymphoma to DLBCL is rare, accounting for approximately 4% of all MALT lymphoma cases10. MALT lymphomas account for 7–8% of B-cell lymphomas10 and approximately 50% of primary gastric lymphomas9. Most MALT lymphomas occur in adults over the age of seventy, with no sex-based difference in incidence. However, in females, MALT lymphomas tend to localize in the thyroid and salivary glands11.
Regarding the pathogenesis of MALT lymphoma, a history of chronic gastritis causes the accumulation of extranodal lymphoid tissue. Several studies have found an association between H. pylori positivity in chronic gastritis and MALT lymphomas of the stomach12. H. pylori antigens are continuously activated, resulting in the transformation of B cells into gastric MALT lymphoma cells13. In a study by Bautista-Quach et al.,14 more than 90% of gastric MALT lymphoma cases were associated with H. pylori infection. Similarly, compared to the general population, Hashimoto's thyroiditis patients are 70 times more likely to develop thyroid lymphomas; approximately 90% of thyroid MALT lymphomas are found in association with lymphocytic thyroiditis15.
In the present case, the tumor cells were large with mildly irregular, predominant nuclei, mimicking poorly differentiated carcinoma or sarcoma cells of other origins. Of the B-cell line markers tested (CD19, CD20, CD79a, PAX5, BOB1), the neoplastic cells were only positive for PAX5. Only the most common B-cell immune markers (CD19, CD20, and CD79a) were initially tested; however, following their negative results, PAX5 and BOB1 were also tested. The BOB1 antibody is a B-lymphocyte-specific transcriptional coactivator for the Oct-1 and Oct-2 transcription factors and is, therefore, useful for determining B-cell lineage.
The presence of germinal center origin markers (CD10 and Bcl-6 positivity; MUM1 negativity) and double/triple expressors (c-Myc and Bcl-6/Bcl2 positivity) were confirmed via immunostaining. Tumors that overexpress c-Myc (40%) and Bcl2 and/or Bcl6 (≥ 50%) are classified as double expressors (c-Myc and either Bcl2 or Bcl6) or triple expressors (MYC, Bcl2, and Bcl6)16. Two independent pathologists (NVH and NTH) evaluated the tumor tissue samples of the current case. DLBCLs that are classified as double or triple expressors are often associated with poor survival rates compared with non-expressor DLBCLs4, 17.
The CDKN2A gene, which encodes p16 (also known as p16INK4a), is commonly deleted in tumor cells. Senescent cells often overexpress p16, which is considered a cell cycle down-regulator. Inhibition of the CDKN2A gene will block the aging process caused by the oncogene, meaning normal cells will not be transformed into tumor cells. Several studies have shown that p16 is expressed in the cytoplasm of various primary cancer cells, such as prostate, lung, and breast carcinoma cells. Furthermore, cytoplasmic p16 has been shown to be involved in carcinogenesis8, 18.
Mutations that result in the loss or reduced functionality of CDKN2A are associated with an increased risk for many cancers, and such gene alterations are commonly seen in cancer cell lines. The expression of p16 is used as a prognostic biomarker for several types of cancer; however, different cancers may impact p16 expression differently19. As tissues age, p16 concentration increases significantly; p16 and senescence-associated beta-galactosidase are considered cellular senescence biomarkers. Therefore, blood tests measuring p16 levels can indicate the aging rate of tissues at a molecular level20.
In the presented case, cytoplasmic and nuclear p16 expression was detected in the lymphoma cells. Nuclear p16 acts as a cell cycle blocker; therefore, cytoplasmic localization is often considered nonspecific expression. However, Evangelou et al.21 demonstrated that cytoplasmic p16 expression was specific in non-small-cell lung carcinomas and suggested that this expression pattern was indicative of p16 protein inactivation. Furthermore, cytoplasmic p16 expression has been detected in breast cancer, and positive cytoplasmic immunostaining for p16, either alone or in combination with nuclear immunostaining, is considered a poor prognostic factor22.
Carcinogenesis is initiated in cells adjacent to senescent cells due to the presence of senescent cell-derived exosomes. These exosomes contain inflammatory factors and oncogenes and have acquired the senescence-associated secretory phenotype (SASP), resulting in their secretion of proinflammatory cytokines (IL‑6 and IL-8), chemokines, proinflammatory macrophage proteins, and growth factors. SASP secretions have functional interactions with other cells and modulate the tissue microenvironment, and can cause or promote tumorigenesis. Several diseases, such as cancer, atherosclerosis, and fibromatosis, may be associated with senescent cells. Therefore, the removal of senescent cells could be a promising therapeutic target7, 23.
CONCLUSION
The present case was diagnosed with primary CD20-negative DLBCL of the stomach, with nuclear and cytoplasmic p16 expression detected. Such a case is rare in clinical practice. The tumor cells had nonspecific histological features, similar to those of undifferentiated carcinoma and sarcoma cells. Immunostaining is important in diagnosing primary lymphoma of the stomach. Although the tumor cells were positive for LCA (a marker for lymphoma cells) and negative for common B-cell markers (CD19, CD20, and CD79a), testing other B-cell markers was necessary to avoid a misdiagnosis of a T-cell tumor. The investigation of other mutant genes present in tumor cells, such as c-Myc, Bcl6/Bc12, and p16, and germinal center markers, could provide additional information throughout the diagnostic process.
Abbreviations
DLBCL: Diffuse large B-cell lymphoma, MALT: Mucosa-associated lymphoid tissue, SASP: Senescence-associated secretory phenotype
Acknowledgments
We would like to thank the University for the study's approval.
Author's contributions
HNV and NTH: Conceptualization, Methodology, Writing-Original draft preparation; NTT: Visualization, Methodology, Software; TNM: Data curation, Writing-Original draft preparation; DTL: Validation, investigation, Supervision.
Funding
None.
Availability of data and materials
Data and materials used and/or analyzed during the current study are available from the corresponding author on reasonable request.
Ethics approval and consent to participate
This study was conducted in accordance with the amended Declaration of Helsinki. The institutional review board approved the study, and all participants provided written informed consent.
Consent for publication
Not applicable.
Competing interests
The authors declare that they have no competing interests.
References
Comments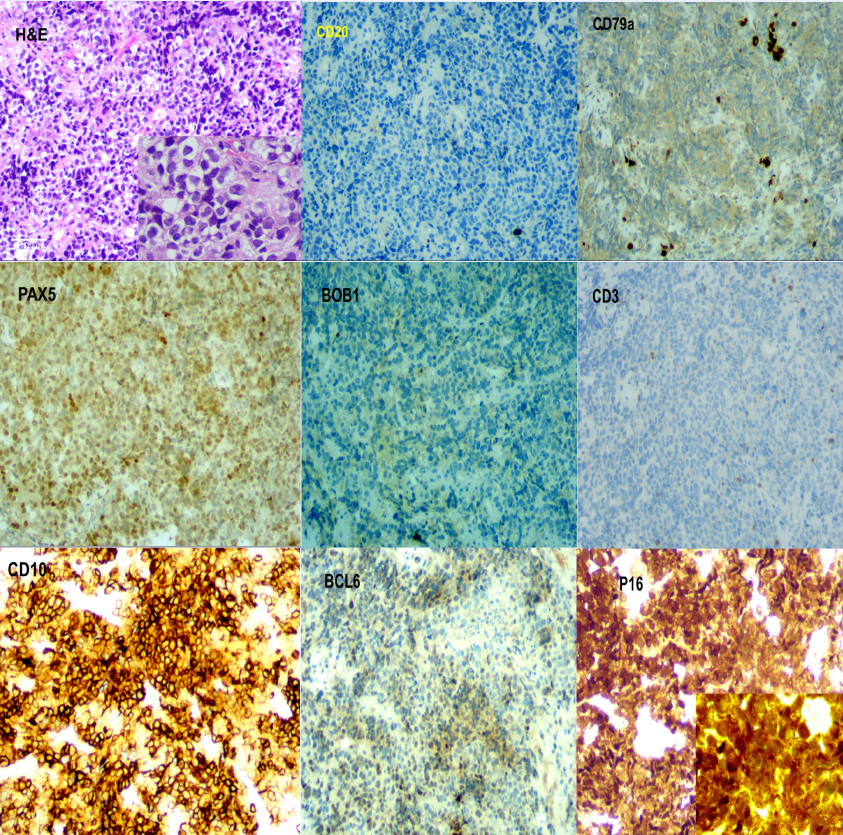 Citations
Hung, N., Huong, N., Thanh, N., Minh, T., & Luan, D. (2022). Extranodal primary CD20-negative diffuse large B-cell lymphoma with cytoplasmic p16 expression. Biomedical Research and Therapy, 9(6), 5089-5094. https://doi.org/10.15419/bmrat.v9i6.743
---
Copyrights & License
Nguyen Van Hung, Nguyen Thuy Huong, Nguyen Tuan Thanh, Tran Ngoc Minh, Dao Thi Luan, 2022.
---
This work is licensed under a Creative Commons Attribution 4.0 International License.
HTML viewed

- 1877 times

PDF downloaded

- 334 times

XML downloaded

- 0 times
Downloads
Download data is not yet available.