Vol 6 No 3 (2019) / 3088-3092
Case report

Metastatic breast cancer to colon: An unusual site of metastasis with a review of literature
Abstract
Gastrointestinal (GI) metastasis is very rare in patients with breast cancer (BC). This study reports a case with colon carcinoma metastasis originated from breast cancer in Western Iran. A 37-yearold female was diagnosed with infiltrating ductal carcinoma. Immunohistochemistry (IHC) results showed positive estrogen receptor, progesterone receptor, HER2 scored 2 out of 3, Ki-67 in 30% of tumor cells and P53. The patient was re-admitted two times with urinary and GI symptoms, positive tumor markers and thick colon wall. Samples from the colon were collected to test for metastasis. The pathologist reported metastatic breast ductal carcinoma spread to the colon. The IHC showed CK7, CK20, GCDFP15, ER and PR positivity. In conclusion, this IHC panel can be considered as the differential and diagnostic markers for malignant GI lesion originated from breast cancer.
Introduction
Breast cancer (BC) is the most frequent malignancy among women and is the second most common reason of cancer death in females globally 1,2. One in eight women will be affected in their lifetime 3. The most common cause of death in BC patients is distant metastasis 4, and lungs, liver, bone, brain and adrenal glands are the most common sites of these metastases 1, whereas gastrointestinal (GI) tract metastasis, especially colorectal metastasis in these individuals are very rare and uncommon 3,5. Therefore, clinicopathological findings are poor and unclear for the diagnosis and subsequent treatments of GI lesion, especially for colon carcinoma originated from BC. In this study, we report a very rare and uncommon case of BC that developed into colonic metastasis. In addition, we report the clinicopathological features distinguishing metastasis from primary malignancies by immunohistochemistry (IHC).
Case presentation
A 37-year-old housewife was admitted to the surgery department with pain and insidious growth on left breast mass for 3 years on 14th January 2013. On 15th January, she underwent left breast modified radical mastectomy. The breast specimen was 14x12x6 cm in size with retracted nipple and infiltrating gray mass of up to 9.5 cm in the center of the breast. Several separated fibro fatty pieces of tissue about 8.5x6x2 cm were also present. The pathology report identified infiltrating ductal carcinoma with nuclear and histologic grade I/III, vascular and perineural invasion and free skin, nipple, and surgical margins. Three out of 8 axillary lymph nodes were involved by the tumor. IHC report on 14th May 2013 was estrogen receptor (ER) positive (weak staining in 50% of tumor cells), progesterone receptor (PR) positive, the human epidermal growth factor receptor 2 (HER2) positive scored 2 out of 3 (weak complete staining in 100% of tumor cells), Ki-67 positive in 30% of tumor cells, and P53 positive.
The patient had a history of breast mass since 2010 with insidious growth and recent pain. Medication history in 2013 included Salbutamol Spray. The patient was admitted on 6th December 2016 to the oncology ward with a history of 7 sessions of chemotherapy and 25 sessions of radiation therapy, with the last one in 2013, and clinical presentation of suprapubic pain, nausea, dysuria, and urinary retention for 7-8 hours. In physical examinations, suprapubic with right lower quadrant tenderness, a temperature of 38.3◦C and blood pressure of 80/50 mmHg were noted. The differential diagnoses included urinary tract infection, sepsis, metastasis, and appendicitis. Multiple ultrasound examinations during hospitalization demonstrated multiple Para-aortic, Para cava, Para iliac, mesenteric, and peritoneal lymphadenopathies sized 20-35 mm in favor of neoplastic process and tumoral peritoneal seeding. Left adnexal vascularized hypoechoic mass with the maximum diameter of 30 mm, mass-like hypoechoic masses in right iliac fossa with the dimensions of 40x15 and 10x8 mm (metastatic lesions), and a round echogenic right ovarian lesion (15*11 mm) were also noted. The patient received treatment and was stable for discharge.
On 26th January 2017, the patient was re-admitted to the oncology department with right inguinal inflammation and mass for a few weeks. Ultrasound examination showed multiple lymph nodes without echogenic hilum and maximum dimensions of 24x16 mm in favor of malignant lymph nodes. On 1st February 2017, the patient was admitted with abdominal pain and infection, positive tumor markers and thick colon wall, and samples from the colon were collected to test for metastasis. The specimen consisted of several fragments of creamy brownish tissue about 0.9x0.7x0.3 cm in size with colonoscopy biopsy. The pathologist reported colon mucosa overlying malignant epithelial tumor compatible with clinical diagnosis of metastatic breast ductal carcinoma in the colon (Figure 1,Figure 2,Figure 3), and suggested IHC for confirmation. IHC was done on 7th February and showed positive CK7, CK20, GCDFP15, ER, and PR, which confirmed metastatic carcinoma of breast origin.
On 28th March 2017, the patient was re-admitted with chief complaint of flank pain, oliguria and anuria for 2-3 days. Physical examination was unremarkable, except for costovertebral angle tenderness and lower limbs edema. Abdominopelvic computed tomography (CT) scanning showed bilateral hydronephrosis, which was a candidate for left nephrostomy. Doppler ultrasound suggested deep venous thrombosis in both lower limbs. On 7th April 2017, patient was faced with loss of consciousness and chorea-like movements, but brain CT scanning was unremarkable. Magnetic resonance imaging was not possible due to patient general condition. On 11th April the patient was intubated due to tachycardia and tachypnea. Clinical diagnosis included sepsis, acute renal failure, and septic shock in advanced cancer. On 12th April 2017, cardiopulmonary arrest was faced. Cardiopulmonary resuscitation (CPR) was done, but the patient died 40 minutes after CPR.
Discussion
GI metastasis originated from BC is very rare, therefore, it is rarely recognized 5. Distant metastasis may occur many years after BC therapy 6. However, some studies suggested that ductal carcinoma have the tendency to metastasize to liver, lung, and brain, and lobular BCs are significantly associated with bone, GI tract, gynecological organs 7. We found a 37-year-old patient with metastatic infiltrating ductal carcinoma in colon. Due to the late-onset and clinical symptoms of colon metastasis, the screening was difficult. Thus, immunohistochemistry analysis played a significant role in accurate and differential diagnosis. Our IHC results showed that the biopsy specimens were positive for CK20 and CK7. Since CK7 was significantly expressed in 90% of BC carcinomas, we could identify the malignant lesion in CK7 positive specimens as metastatic BC, which was compatible with previous studies. On the other hand, previous studies have shown that CK20 staining is particularly positive in gastrointestinal tract tumors 8, Additional immunohistochemical examinations showed positivity for ER and PR, like that seen in primary BC. These findings recommended that malignant colonic lesion might be metastatic from BC, however, 32% and 12% of gastric cancer biopsied samples were ER and PR positive 9. In this regard, Pera et al. 10 showed positivity for ER and PR in more than 90% of the malignant gastric cells. In another study, Koike et at. 11 reported 3 positive cases for ER and PR staining, which indicated GI metastasis from BC.
As sensitivity and specificity of GCDFP-15 staining for determining breast origin of cancers are about 55-76% and 95-100% respectively, and it has been used for differential diagnosis of metastatic BC 3,6,7. GCDFP-15 staining of the present case showed positivity, which was in agreement with the other studies6,9.
Conclusions
Colon metastasis from BC is very rare. Considering the importance of correct diagnosis in order to choose the optimal initial treatment, histopathological and immunohistochemical analysis gives researchers new insight into determining the histological origin of carcinomas. The present case reported the positivity for CK7, CK20, GCDFP-15, PR, and ER in immunohistochemical analyses that were well matched to that of breast lesion observed. However, there is no specific markers available to determine the malignant metastatic GI tract lesion from the primary one. Based on our results and previous studies, the combination of CK7, CK20, GCDFP-15, PR, ER can be employed as useful markers for the diagnosis of colon metastasis from BC.
Abbreviations
BC: Breast cancer
CPR: Cardiopulmonary resuscitation
CT: Computed tomography
ER: Estrogen receptor
GI: Gastrointestinal
HER2: Human epidermal growth factor receptor 2
IHC: Immunohistochemistry
PR: Progesterone receptor
Competing Interests
There are no conflicts of interest.
Authors' Contributions
Parham Nejati & Mazaher Ramezani: Literature search, Clinical studies, Data acquisition, Data analysis; Mazaher Ramezani: Manuscript preparation, Manuscript review, Guarantor; Parham Nejati: Concepts, Design, Definition of intellectual content, Literature search, Manuscript editing; Masoud Sadeghi & Farhad Amirian: Manuscript editing, Literature search. All authors read and approved the final manuscript.
References
Comments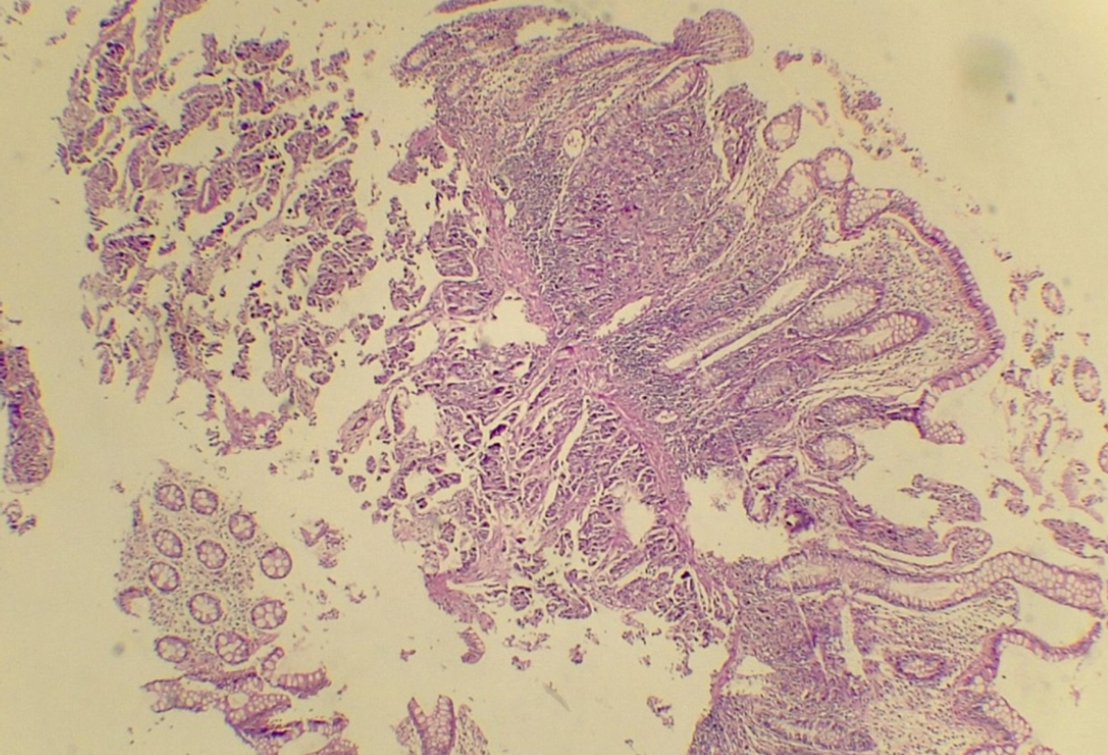 Citations
Nejati, P., Sadeghi, M., Amirian, F., & Ramezani, M. (2019). Metastatic breast cancer to colon: An unusual site of metastasis with a review of literature. Biomedical Research and Therapy, 6(3), 3088-3092. https://doi.org/10.15419/bmrat.v6i3.532
---
Copyrights & License
Parham Nejati, Masoud Sadeghi, Farhad Amirian, Mazaher Ramezani, 2019.
---
This work is licensed under a Creative Commons Attribution 4.0 International License.
HTML viewed

- 6548 times

Download PDF downloaded

- 707 times

View Article downloaded

- 0 times
Downloads
Download data is not yet available.